Did you know staging your home could help it sell faster and at a higher value?
If you're selling your home in Woodbury, MN sometime soon,  you need to consider getting it staged first. While you can certainly clean and show off how your home would look like in a brand-new condition, home buyers today don't want to see what a house looks like when it's lifeless and empty. This surface-level first impression has more impact than you might think – buyers generally give a thumbs up or down in the first 15 seconds upon entering a home, and stick to that verdict throughout the home buying process. And if your home is vacant, buyers are likely to stay for just 5 minutes. Why? Because practically, most of them can 't imagine what an empty house would look like if it were their home. It'll take a long time before someone that can comes along, and you might have to cut the price to even get them in the door. That's where a Home Stager comes in! If you have a vacant home, then definitely talk to your realtor about having it staged and see what he has to say about it as well. Most realtors partner with professional home stagers because they know the value they can bring to their sellers home! Home Stager in Woodbury MN
Why you should hire a Home Stager

in Woodbury MN
That's where a Home Stager comes into play. Professional Home Stagers are well-trained and certified to make your home look as good as it possibly can – they know how to make each and every space come alive with décor that really brings out the purpose and look of each room, bringing it all together to become a visually unified and appealing for any Minnesota home buyer. They know how to keep home buyers from walking out by showing them exactly what they're on the market for – a real home, instead of just the shell of one. Home Staging in Woodbury MN, Minnesota Home Stager in Woodbury MN, Minneapolis Home Staging  Saint Paul Home Stager, Woodbury Home Stager MN
Even better, the expenses on these services tend to be remarkably low compared to the value you get back. And when you consider the gains you'll be making from seeking out these home staging services, you might as well be getting free money! Houses sold with home staging performed tend to sell in just 6 days – as compared to about 50 for the average unstaged house. The quicker a house gets off the market, the more it can usually sell for. In this case, it's a lot more – staged houses tend to get a markup of up to 20 percent! That's thousands of dollars in free money, all because you decided to stage your house! home stager in woodbury mn, woodbury home staging
The true value of hiring a Home Stager

in Woodbury MN
Think about everything you could put that extra markup towards! A new vacation, a year's worth of college for the kids, or an upgrade to an even better Woodbury, MN home to move into – the possibilities are endless! With such returns, why would you let your home sit on the market for weeks on end, losing value all the while just because it looks dull and bland? Why would you let your buyers walk out after 5 minutes without knowing what your home has to offer them? Why wouldn't you have your home staged, when all your competitors in your neighborhood are doing it and selling for prices you might not be able to match? home stager in woodbury mn
Home Stager in Woodbury MN | Vickie Kaiser Home Staging & Interior Design
Vickie Kaiser is a local Interior Designer and Home Stager in Minnesota. She is located in Bayport, MN but travels all over the Twin Cities working with established Realtors and other professionals in the home Staging and Interior Designbusiness. She has a degree in Interior Design and has also worked with Interior Designer Kelli Kaufer on the DIY Network show!  She worked on 18 kitchens, primarily during season 7 of the show.You can click here to see some of the kitchens she was involved in remodeling.
Then through doing some Home Staging work for a Realtor friend, she found it particularly rewarding to use her design knowledge to help people through a transitional phase in their life. Home Staging is the complete opposite of Interior Design. In her own words "Interior Design represents you personally, making your home your own. Home Staging represents the home's potential, enabling a buyer to envision making the home their own. I use design principles to define spaces for a broad appeal, and that shows each home at it's greatest potential. Generally a home is your biggest investment, and I help facilitate getting the highest return on that investment." 
Check out some of Vickie's Home Staging projects in Minnesota right here: CLICK HERE
Home Stager in Woodbury MN | Vickie Kaiser Home Staging serves all the following Twin Cities locations:
Minneapolis| Roseville|  St Pa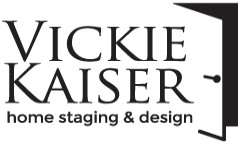 ul| South St Paul | North St Paul | Coon Rapids| Brooklyn Park| Minnetonka| Edina| Woodbury|  Lakeville| Eden Prairie|  Fridley|  Maplewood|  Shoreview| Arden Hills|  Mounds View| Maple Grove|  Shakopee| Chanhassen| Rogers|  Plymouth| Golden Valley| Victoria| Champlin| Chaska| Prior Lake| Savage| Hopkins| Andover| St Louis Park| New Brighton| Apple Valley| Burnsville| Ramsey| Anoka| Crystal| Ham Lake| Bloomington| Blaine| New Hope| Richfield| Spring Lake Park| Columbia Heights| Brooklyn Center| Eagan| Little Canada| Mendota Heights| Oakdale| Vadnais Heights| White Bear Lake| Stillwater| Centerville| Falcon Heights| Forest Lake| Gem Lake| Hugo| Lino Lakes|  Lauderdale| Mahtomedi| North Oaks| Wyoming| Hudson| Lake Elmo| Grant| Bayport| Newport| Pine Springs| Inver Grove Heights|  Rosemount| Orono| St Anthony | Circle Pines | Lexington | Inver Grove Heights | Osseo | Ham Lake | Hudson | East Bethel | Wayzata | Rosemount | Constance | Rogers | Dellwood | Corcoran | Crystal | Medicine Lake | Falcon Heights | Hopkins | Hastings | Mendota | Mendota Heights | Sunfish Lake | Apple Valley | Cottage Grove | White Bear Township | Hugo | St Paul Park | Newport | Pine Springs | Grant | Willernie | Birchwood Village